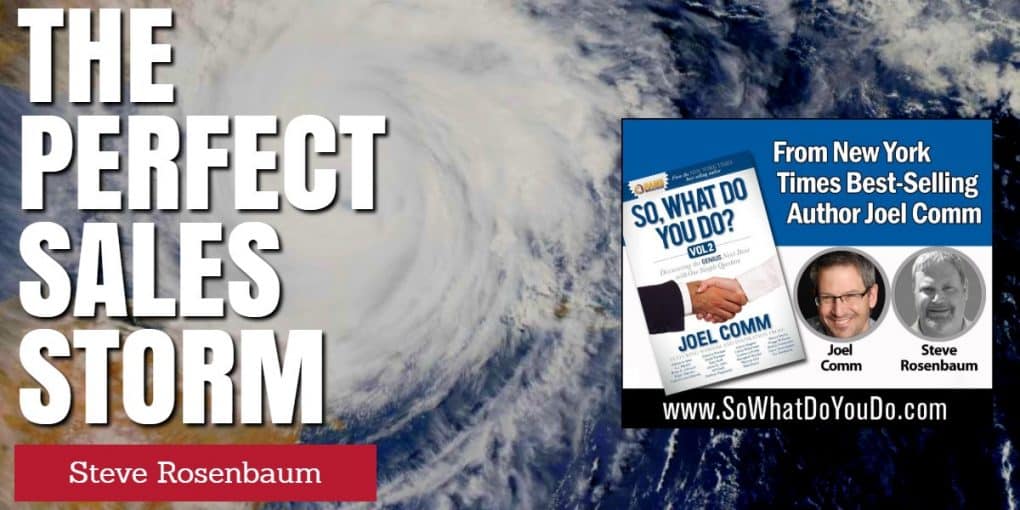 Story Time: "The Perfect Sales Storm"
Learn "The 4 Ingredients Necessary To Close A Sale… EVERYTIME!" as you listen to my story "The Perfect Sales Storm".
This is an audio reading of my chapter from NY Times Best Selling Author Joel Comm's book "So What Do You Do, vol. 2"
Listen to my story!
I've Helped Thousands Of Businesses Explode Their Sales & Profits.
Chances Are I Can Help You, Too
Transcription:
July 19, 1989, I will never forget the date.
That day is permanently etched into my mind as the beginning of my quest to help businesses and people close more sales and make more money.  To learn what I learned, and to experience what I experienced.  It was the beginning of my metamorphosis into "The Original Back End Specialist".
I was a newly hired, eager to succeed, ball of fire.  This was the first time I was given a territory of my own and I was out to prove myself come hell or high water.  So, I attacked the account list with great vigor and made a six hour trek to call on an 18 location department store in Quincy, IL.
Peggy, the buyer was very nice when I called to set the appointment.
"You know, it would be nice to meet you, but Quincy is a long way for you", she told me on the phone.  "I hate for you to make the trip because your chances of succeeding are almost nil.  We're exclusive with the number one brand and I don't see that changing anytime soon."
"Now what kind of a Territory Manager would I be if let a 700 mile round trip journey keep me away from checking an account off of my list," I thought to myself.  Of course I would make the trip.
When I arrived, Peggy greeted me and escorted me to her office.  She was nice as could be.
After the normal greetings and formalities, I began doing my pitch, and demonstrating the luggage.  I showed her all the bells and whistles, opened and closed the zippers, spun the wheels, extended and collapsed the handles…
In my mind, I did all this with flawless expertise and perfection.  Obviously I possessed skills and talent that surpassed anything she had ever seen before.  In reality, of course, I simply did the exact same things that every other luggage "schlepper" in the history of the universe did.
Note
In teaching my clients and students a better way to market and sell, I've developed a technical term to describe what happens when a salesman engages in this kind of one-sided exhibition:
It's called a "Show Up and Throw Up".
And then, the phone rang.
This is before the days of call screening.  It was one of those old-fashioned phones.  A real bell.  No Caller ID.
Ring- Ring, Ring-Ring… 
"Excuse me.  Let me see who it is", Peggy apologized.
"Of course", I replied sweetly, masking my deep irritation and annoyance.
She picked up the phone and I heard her side of the conversation:
"Oh, I see. Well, that's not good…"
"Ouch, that's really, really going to be a problem for me…"
"There's nothing you can do?
"Oh, my goodness…"
"I'm really in big trouble…"
"OK, well I really have to go", she said as she returned the handset to the cradle.
With that she turned to me and said, "Well, that was your number one competitor, the one that I said you would never unseat.  They called to inform me that my shipping container of luggage for an ad in two weeks is held up in customs and is not going to get here in time.  I'm not going to have the luggage I need for the ad.  So, I need to know right now what you have at this price point that we could run in its place".
I excused myself and used a phone in the next office to call my boss, the Vice President of Sales.  He was ecstatic to say the least.  This had been a target account that they had been trying to crack for years.
We had suitable inventory and I closed the deal!  She wrote me a tremendous order, probably somewhere near $50,000.  That was a very big order for us.
My company thought I was a rock star.  Like me, they were convinced that I was absolutely the most brilliant salesman in the history of selling luggage.
That sale started my trajectory into sales management.  Two months later the company moved my family to California and made me the Western Regional Sales Manager.  A year and a half later, another company recruited me away and gave me a VP of Sales position in Savannah, GA.  I was like 28 years old and all it started because of that one sale.
Sales success came easy, at first.  Later, I discovered that sales didn't always come that easy.
Reality set in and I learned that just showing up didn't always make it happen. I found out that even if I made a perfectly, flawless pitch, I didn't always get the sale.
I returned in my mind to Quincy and dissected the situation over and over again.
What really happened?
The phone call is what happened.
Peggy was in need.  She turned to the easiest and best solution she could find, that happened to be sitting 18 inches away from her, and asked, "Can you cure my pain?"
And she gave me the opportunity.
A lot of things came to together all at the same time and created the "Perfect Storm" for me. I was at the right place, at the right time.  I had the right message, (i.e. I had luggage that she needed) and I was in the right market (she was the luggage buyer).
Right place
Right time
Right message
Right market
All four of those things have to be present to create a buyer who is "Ready, Willing and Able" to buy from you right now.
That was the lesson that I learned.
You might say, "Look you did a great job because you showed up."
That is true.  I still made the trip.  I was there.  I made the presentation.  I was able to take care of her needs.  So, yes I did execute the mechanics.
The point is, even if you can do all the right things, but if you're not at the right place, at the right time, in the right market, with the right message, you aren't going to get the sale.
How many times have you tried to make a sale and someone said, "Call me back in six months.  I'll be ready then"?
You diligently put it on your calendar and you call back in six months and that same person says, "Darn, I wish you called last week because the other guy called me and I gave the business to him."
As a salesman and a business owner, I've been there.  I'm sure you've been there too.
The Quincy experience was not lost on me.  I set out to perfect a system where I could put the odds of bringing all 4 elements together in my favour.
It was the impetus for what I've honed and developed over the course of nearly 25 years.  It's the "Back End" of the marketing funnel.  The "follow up" process that happens after a person meets the business for the first time.  It's also the part that most businesses fail to properly execute and results in a great deal of missed opportunity.
I've detailed my system in my book "Back End Blueprint".  I've broken it down into scores of products, systems and trainings that I have performed for thousands of businesses and marketing agencies around the world.
With today's technology, business have more power, more speed, more information and more clout than ever before.
Sadly, most don't realize it.  I am changing that.
My primary goal is to help businesses recover $100 million dollars in lost sales.  My secondary goal is to train people in need of work, such as corporate-castoffs (like me), military veterans, Moms returning to the workplace,  the skills to help the businesses in their community snatch the low hanging fruit that so many of them miss every day.
I'm pleased to say that we are off to an exceptional start!
We convert more prospects into paying customers; more customers into repeat customers; and repeat customers into champions of businesses that refer their family and friends back to those businesses.
It's a great system leads to higher sales, higher profits, and much happier sales staff and business owners.
My name is Steve Rosenbaum.  I put businesses in front of prospects at the right time, at the right place with the right message and in the right market so that they make more sales.
And, by the way, I have a ton of fun doing it!
I've Helped Thousands Of Businesses Explode Their Sales & Profits.
Chances Are I Can Help You, Too