3
Don't Miss E-Myth Author Michael Gerber – FREE!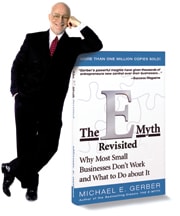 You don't often get a chance to listen to a business guru of E-Myth author Michael Gerber's stature for free… but I have a limited number of passes for this event below.
I can tell you from experience, you will learn things that will change your business forever. You're also bound to have some questions, so if you attend I will give you a FREE hour of coaching (a $200 value) to discuss how to tailor these concepts to your business.
Please read the following carefully, and reserve your space now .
"Wake up and see what's missing in your life, in your business, in your work, in your job, in your relationships. And then, when you do see what's missing, go to work ON your business, go to work ON your life, go to work ON your job, to create what you've always wanted but somehow lost." -Michael Gerber, author of "The E-Myth"
Although it's been years since Michael Gerber penned "The E-Myth," the concepts remain as relevant as ever. Too often small business owners become so distracted with day-to-day issues that they neglect to work ON our business .
I've found that one area that is especially prone to this is email marketing . Instead of focusing on what is important, we fret about subject lines ( Is it attention grabbing? Will it get through the spam filter? ) or when to send the email ( Should I send this on Monday or wait until Wednesday, when open rates are supposedly higher? ).
The truth is, none of that stuff matters. What really matters is that your email marketing is SMART , meaning it is timely, relevant, and targeted.
At Infusionsoft, we call this "Email Marketing 2.0" and if you want to improve the results of your email marketing, you need to learn how it works.
I am pleased to announce that Michael Gerber (the legend himself) has agreed to co-host a free, educational webinar with us about Email Marketing 2.0 so you can learn how to apply the strategies in your own business (and get back to work ON your business).
"Email Marketing 2.0: Smart Email for the Smart Marketer"
February 26, 2010 6:00 PM ET/3:00 PM PT
In this webinar, you will discover:
How traditional email marketing is costing you money
How Email Marketing 2.0 will instantly increase your return on marketing dollars
How smart marketing (a.k.a. Email Marketing 2.0) will improve your open rates and response rates
How to easily tailor your email message for EVERY customer and prospect
Simple techniques for improving conversion rates
And so much more!
---
| | |
| --- | --- |
| | Plus, as an added bonus, the first 100 webinar attendees will receive a copy of Mr. Gerber's latest book, "The Most Successful Small Business in the World," absolutely FREE! |
---
We only have space for 1,000 attendees on the webinar, and we fully expect to fill every spot.
Sincerely,
Steve Rosenbaum 
P.S. Over the years, Michael Gerber has had a significant impact on our company. His insistence that we "dream bigger" that has revolutionized our company and driven our passion for helping small businesses grow.
If you're looking for solutions to your small business challenges or simply need a quick dose of inspiration, you MUST attend this webinar.