1
Austin's Gourmet Burger Recipe Secret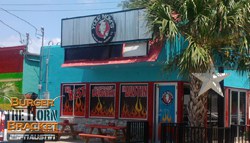 I thought I knew the best Austin restaurants for handmade gourmet burgers, but today I learned a little secret. Your Mom's Burger Bar blew me away! A friend told me about this tiny little shack at 1701 East Cesar Chavez, Suite B, so I decided to give it a try.
Finding it isn't easy. In fact, there seems to be another business located at that address. But Your Mom's is tucked in the back, just off of Cesar Chavez and Chalmers in East Austin (I guess that's what they mean by "Suite B!").
The burgers are massive, 1/2 lb. and hand formed. But the secret is… Your Mom's "Stuffs" many of the ingredients inside the burger, so the flavors cook throughout and explode over your taste buds.
A look at Yelp tells me I'm not the first to find out about this place. They have over 170 reviews and are averaging well over 4 stars. They also were a part of 104.9 The Horn Radio's Burger Bracket competition and faired pretty well. Put this on my favs list for one of Austin's Best Burgers.
What's your favorite Austin Burger?